The prospects and challenges of arctic tourism were the central themes of TourNord's 4th network meeting in Nuuk, Greenland on the 15th and 16th of August, 2023. Blessed with fantastic weather and an incredible program in Nuuk, TourNord was given firsthand insights from tourism industry leaders on the evolution of tourism in Greenland as a whole, as well as looking towards the future of tourism development as an Arctic destination.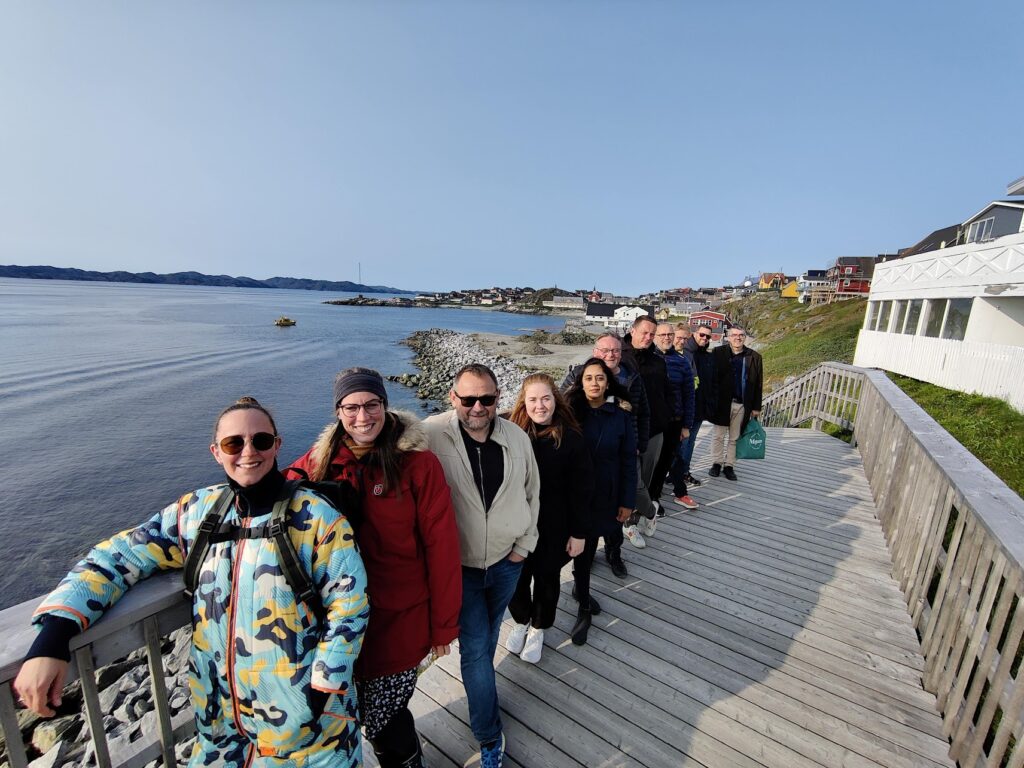 Serving as a forum for exchanging best practices and experiences for education and knowledge development within Nordic Tourism, TourNord had invited speakers from Air Greenland, Visit Greenland, Sustine Consult and the University of Greenland to enlighten and inspire us on Greenland's exciting development as an Arctic destination. We also had time to experience some of the tourism concepts firsthand, as well as discuss and work on our projects, future project applications and cooperation strategies. Read more below to find out what we did!
Day 1: The evolution of tourism and travel in Greenland – great possibilities, but also complex problems!
After a warm welcome from Gestur Hovgaard from the University of Greenland and TourNord Project Lead Christian Dragin-Jensen, we received a tour of the new campus – with its impressive buildings melding seamlessly into the majestic backdrop of Nuuk's fjords and mountains.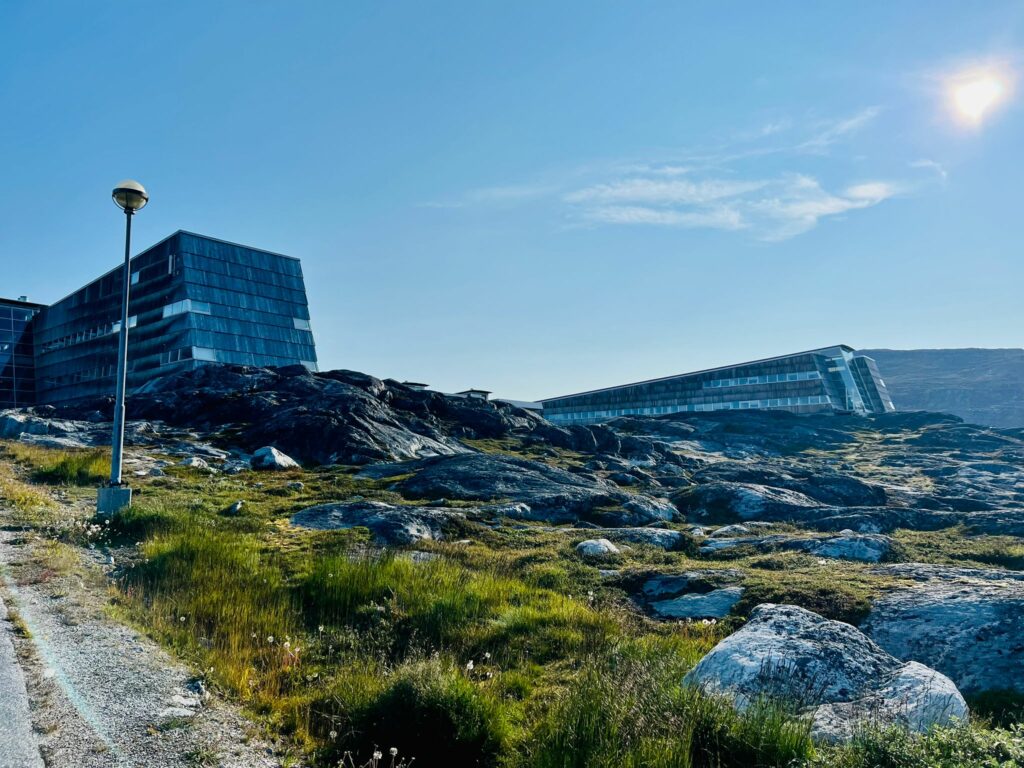 After an introduction of the network meeting program, we got stuck right in with our first speaker, CEO of Air Greenland and a native of Nuuk, Jakob Nitter Sørensen. He came to speak with us about new airports and the challenges to Greenlandic air transport and tourism – where he highlighted that no airline faces challenges quite like Air Greenland does due to the extreme weather conditions in Greenland. This was an incredibly apt way to start his talk as several of our TourNord members had not arrived as their flights from Reykyavik had been cancelled the night before due to weather conditions!
Jakob talked about the upcoming expansion of Nuuk's landing strip and airport facilities, which will completely change the tourism realm in Greenland. Until now, the only way to get to Greenland by air is from Copenhagen or Reykjavik – with only large planes being able to land in Kangerlussuaq. Only small planes are able to land in Nuuk, and are very susceptible to the quickly changing weather conditions. With the expansion of the landing strip in Nuuk, the capital city will now be able to receive large planes from near and far!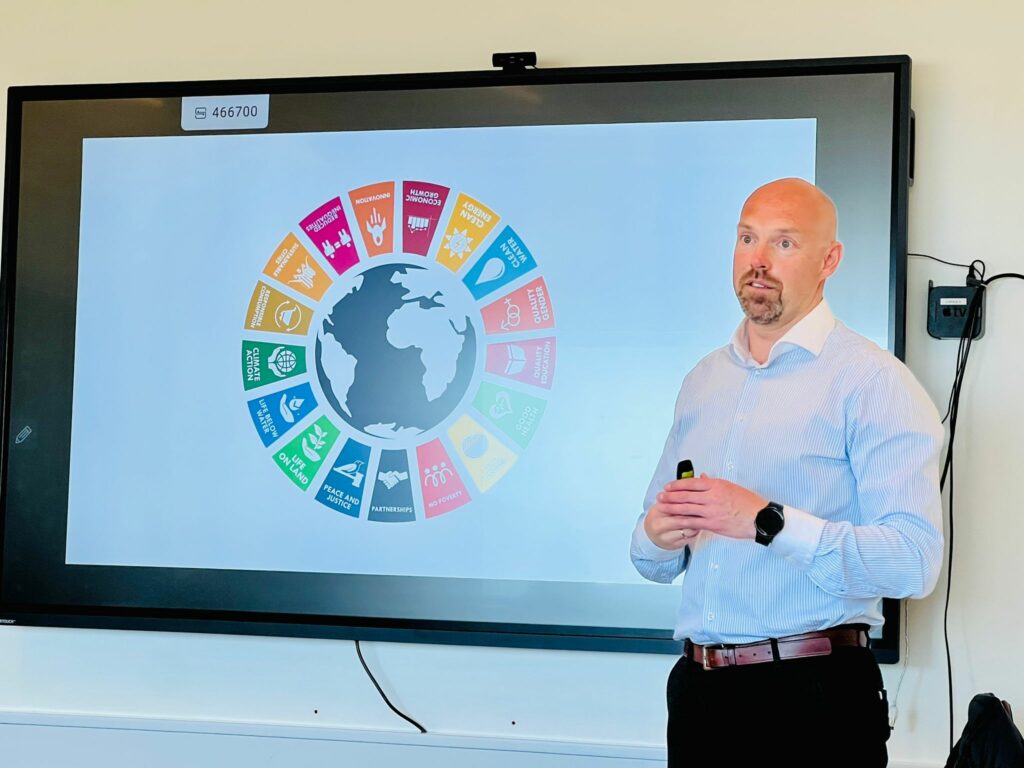 This therefore also means that with the possibility to send more travellers to Greenland, the infrastructure also needs to follow suit – one of Greenland's biggest challenges with regards to tourism. Jakob sees Air Greenland as an integral part of the Greenlandic community, and that they bear a great deal of responsibility to help strengthen Greenland as a nation – be that by educating and hiring a Greenlandic workforce, owning, expanding and operating lodges around Greenlands tourism destinations, or leading the charge for sustainable development. The latter was recently done by completely upgrading the fleet to more sustainable airplanes, as well as being one of the first airlines in the world to use sustainable aviation fuel. Much of this was done at a cost to the bottom line, but as Jakob humbly reiterated several times, Air Greenland's mission is to "be the natural first choice that lifts Greenland. We will secure everyday life and create adventure. And we do it sustainably".
After lunch, we received a visit from Linda Kleist, Destination Development Manger at Visit Greenland – who also happened to be a graduate from our TourNord partner Dania Academy! Linda showcased the great diversity of Greenland's 6 different DMOs, and how their recent award-winning campaign to overcome wrong stereotypes of Greenland had been met with tremendous success – both nationally and internationally. Check out their award winning video below "Date a destination".
Linda then presented their ambitious tourism development strategy, which harboured around the concept "from more to better tourism". The strategy highlighted several key concepts which TourNord were very happy to hear as tourism educators and researchers, namely: community is king, attracting the right travellers, and eating with the locals. Linda showed us how the most lucrative segment, adventure travellers, could help boost Greenlandic tourism and its local communities due to their desired activities, and would not overburden communities as far fewer are needed to reach the same economic KPI's (as opposed to say, cruise tourists).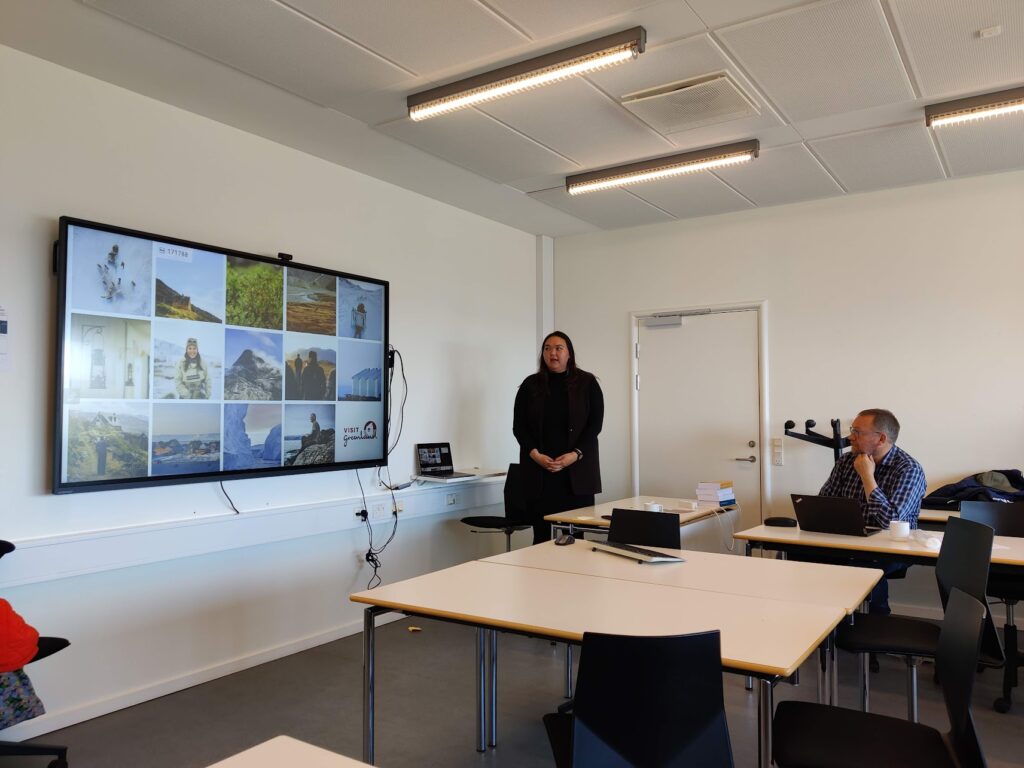 The last concept – eat with the locals – was then tested by TourNord's members in the afternoon! Heading out in a Nuuk Water Taxi, TourNord members had the chance to see Nuuk's majestic fjords (in unusually good weather conditions!), catch their own fish (Cod and Acadian Redfish), where they were then prepared by locals in the village of Qooqqut.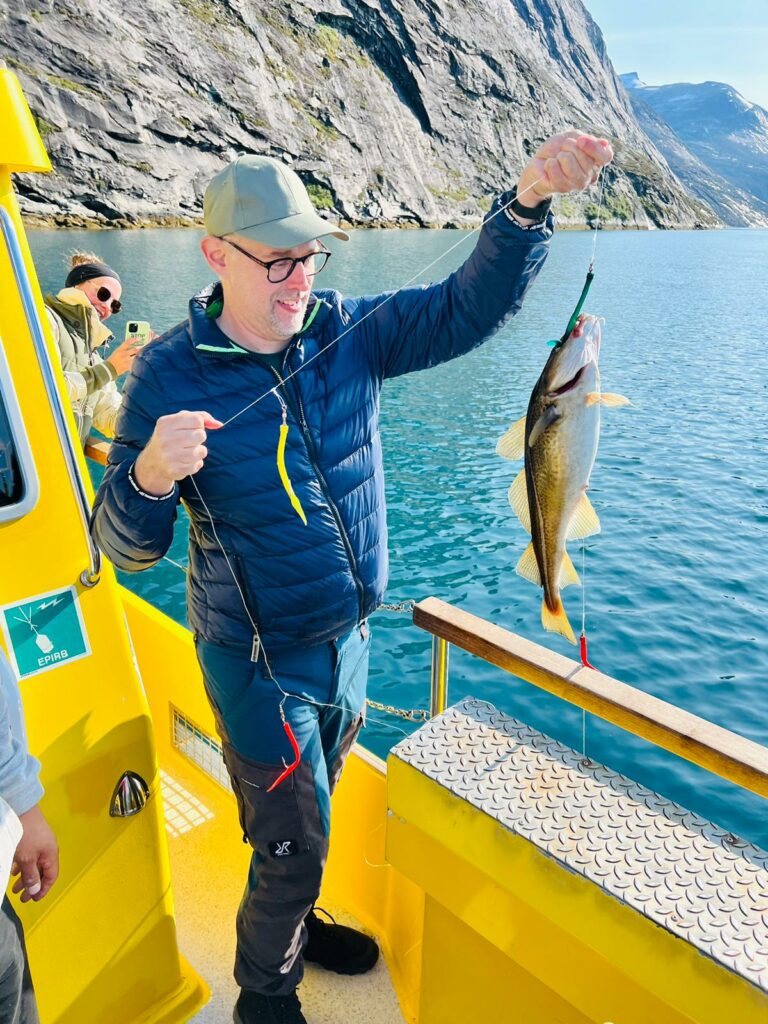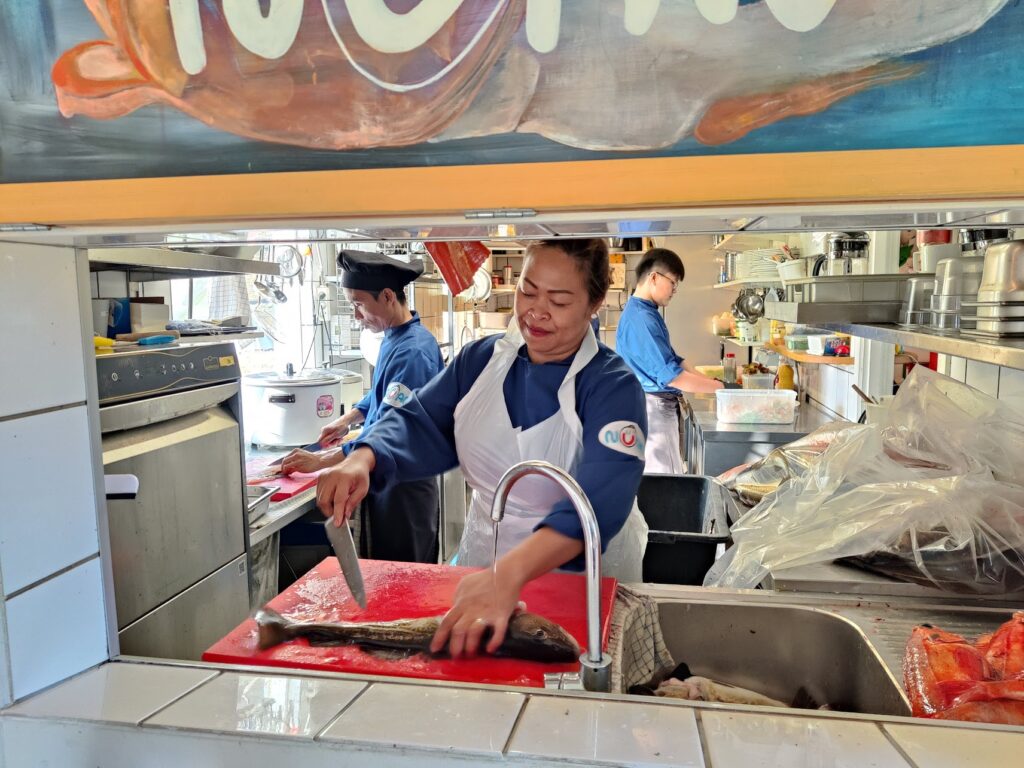 After a fantastic meal, we were in for a real treat, as the captain of the boat learned that humpback whales had been spotted in the Fjord next to ours. We were offered to reroute on the way home and were lucky enough to catch a view of a pod of humpback whales just outside Nuuk!
---
Day 2: Tackling sustainable tourism in Greenland, and how the hotel industry is gearing for evolution in Nuuk's changing landscape
After a good night's rest, we started out the day with a visit from sustainability consultant Stine Selmer Andersen from Sustine Consult. She highlighted the schism between Visit Greenland's sustainability initiatives and how this doesn't necessarily translate to concrete actions as needed by EU's upcoming European Commission ESG measurement requirements. While Greenland does not fall under these requirements, Stine noted that the vast majority of tourists coming to Greenland are European, and European tour operators are getting them to Greenland (who will be bound by these requirements). This means that Greenlandic tourism actors and operators who cooperate with European companies need to be able to report their ESG key figures as part of the tourism value chain. Stine further displayed headaches to come with this as most Greenlandic tourism actors don't have the financial resources or know-how, as they tend to be entrepreneurial SME's. Group discussions with Stine revealed that Visit Greenland should consider taking on a stewardship role and facilitate workshops and maybe even provide consultants to local actors to help them transition to more concrete measurements of their sustainability initiatives.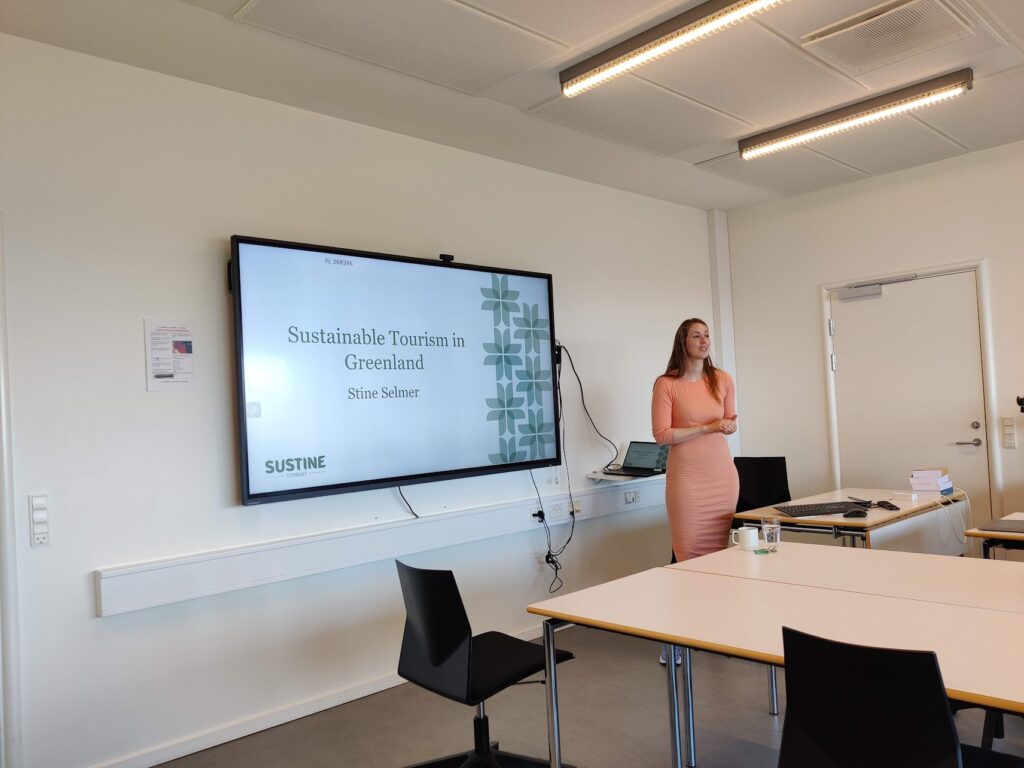 A quick break, and next up was Christian Loiborg Tang, Hotel Manager at Hotel Hans Egede Group, who gave us a fascinating 40 year historical insight into the development of the Nuuk hotel industry. Interestingly, Nuuk has traditionally been dominated by business travel, but are now getting ready for an increase in leisure tourists as capacity has been reached at Ilulissat and the upcoming expansion of Nuuk airport. Christian also presented the challenges a Nuuk hotel faces – particularly with recruitment and retainment of (un)skilled labour, as well as training staff with soft skills (in this case – problem management). Rapid, customized internal training, as well as hiring a global workforce (ranging from Thailand and the Philippines to Danish and Greenlandic staff) were some of the solutions Christian offered.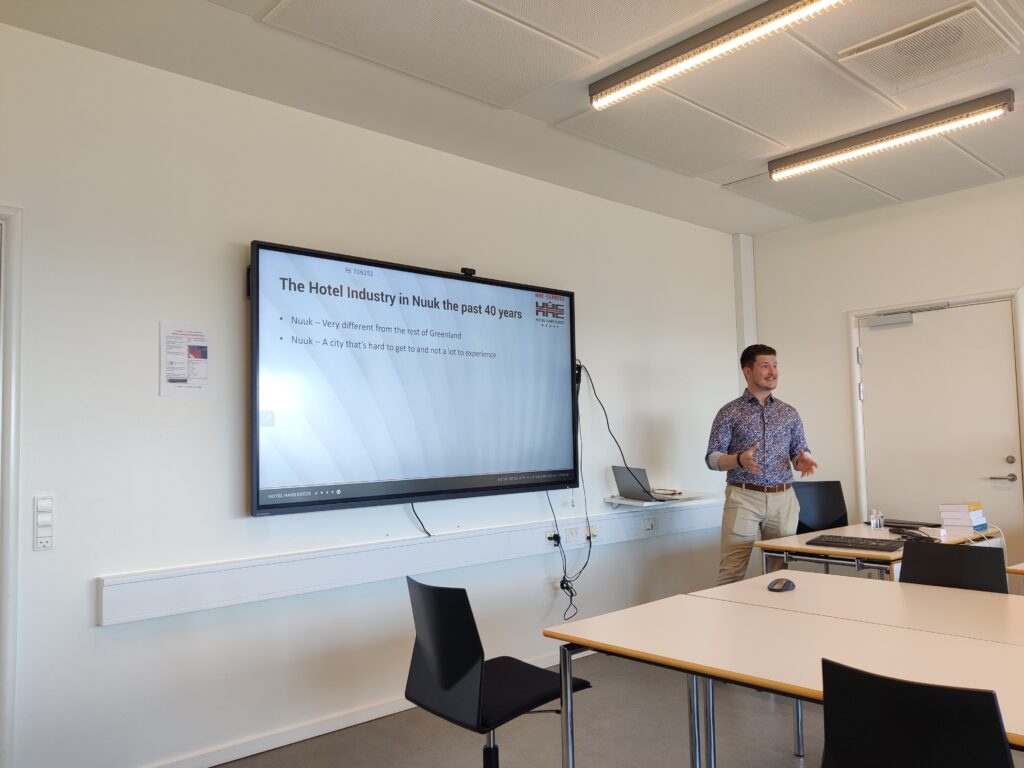 After lunch, we got down to business on progress reports on our upcoming book – Nordic Coastal Tourism, discussed HORIZON project application possibilities, discussed future dates for our 5th and 6th network meetings (in Randers, Denmark and Kalmar, Sweden), as well as possible staff exchanges.
Two excursions were on the agenda in the afternoon, namely a visit to the Visit Greenland office, situated at the beautiful colonial harbour in Nuuk, where we met all the staff, including the editors of the award winning campaign video – there were some starstruck TourNord members 🙂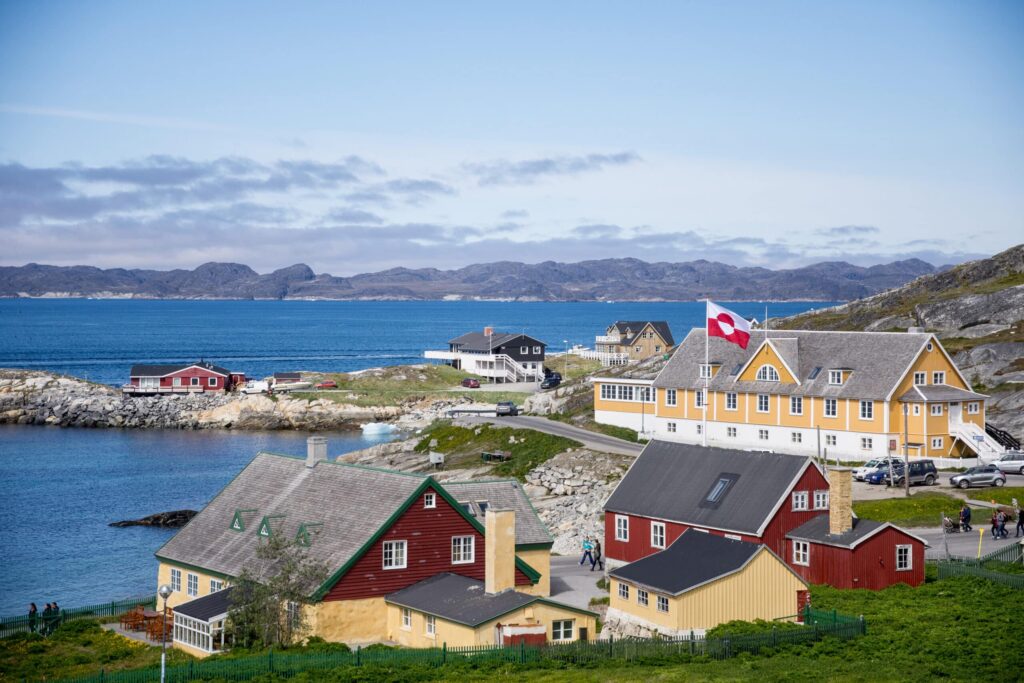 Later on, we received a very unique, and incredibly insightful tour by Steven Arnfjord, Associate Professor and Leader of the Arctic Center of Welfare Studies at the University of Greenland. Having lived in Nuuk since a child, Steven walked us through all of Nuuk's nooks and crannies, all the while delivering us fantastic anecdotes and stories highlighting the incredible speed at which Nuuk is changing. Modernization and urbanization of the country's capital is happening faster than anyone has realised, and there is a sense of a lack of a coordinated city planning strategy. Steven also ensured we left the tourist bubble to see the "other side" of Nuuk – showing that while the city has made great advances, it also has social challenges in the form of homelessness, suicide rates, and housing problems. An inspiring talk full of charisma, humour and a good dollop of reality!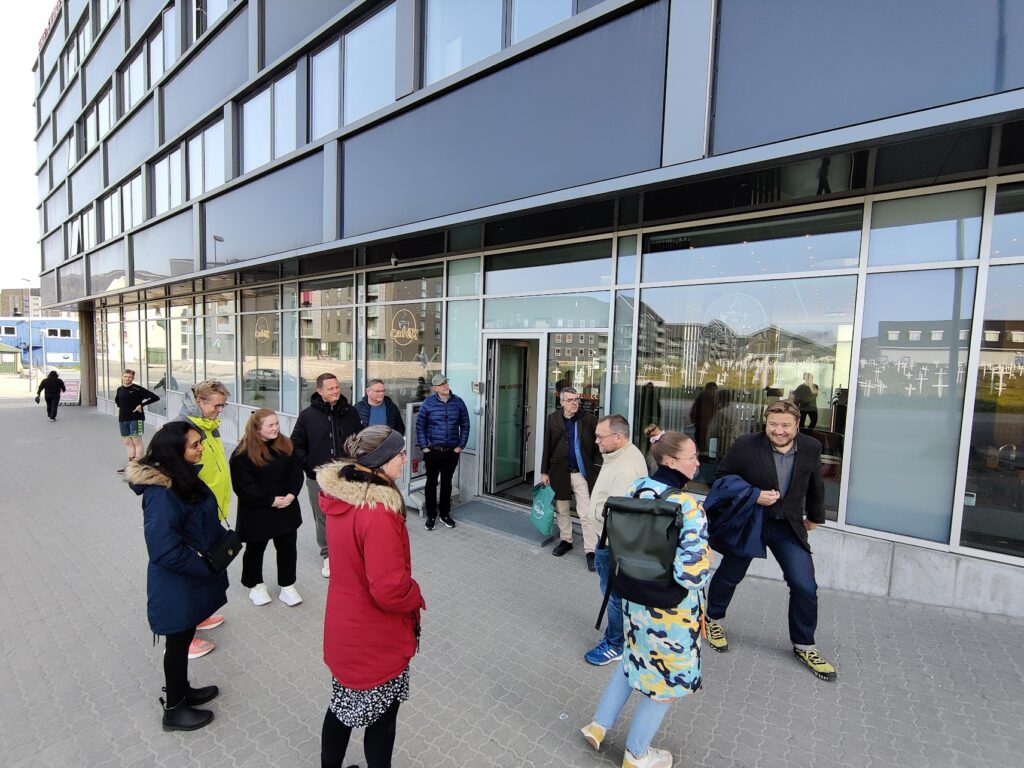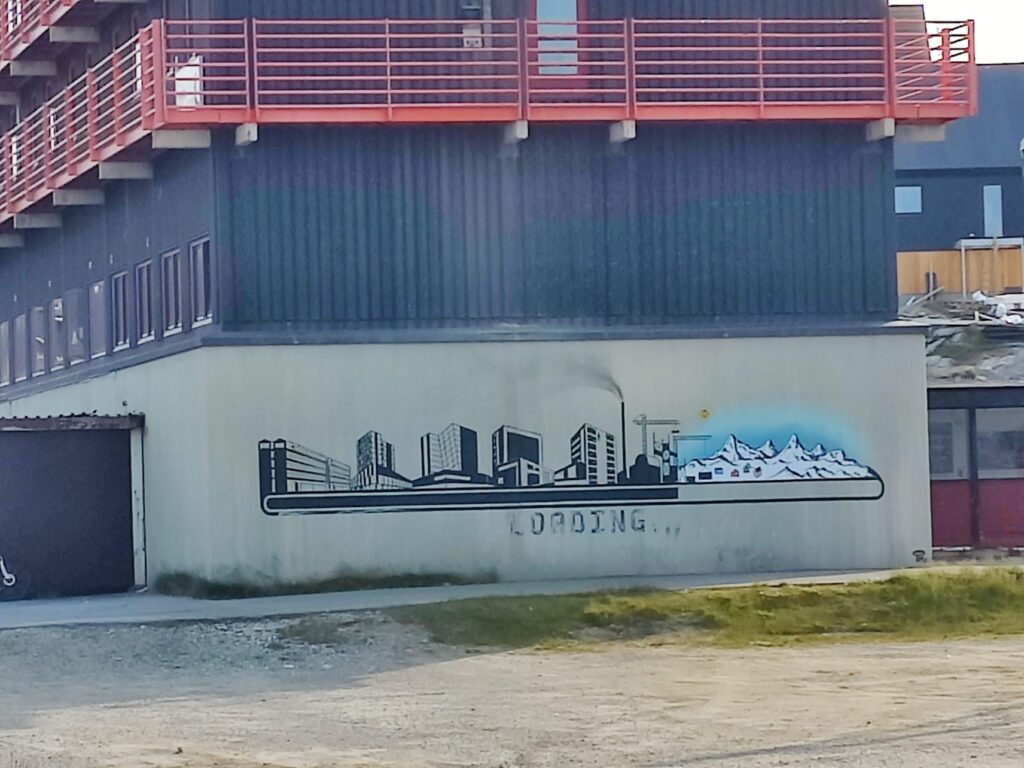 For the evening, we capped off our network meeting by sampling Nuuk's burgeoning restaurant scene – where we tried Greenlandic tapas! An incredible meal where we sampled local delicacies with a modern twist, such as cod fish soup, muskox tartar and seared reindeer.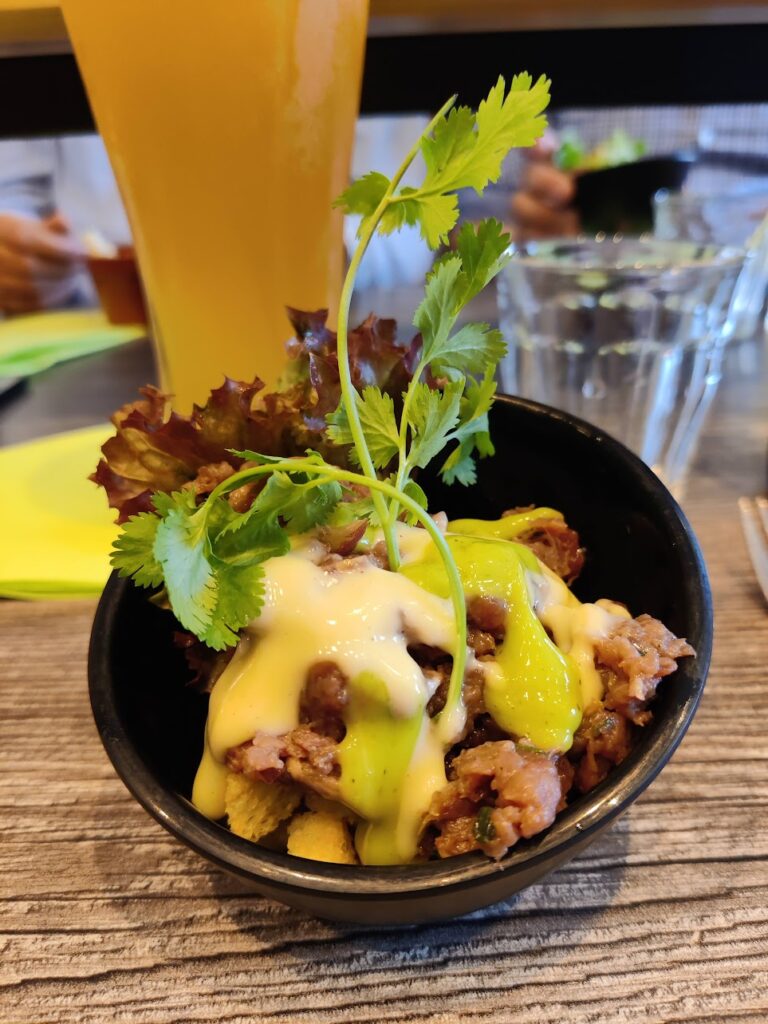 All the participating TourNord members would like to thank the University of Greenland and its partners for their warm hospitality, and a fantastic program which ensured that our network meet serve:
1. As a forum for exchanging best practices and experiences for education and knowledge development within Nordic Tourism
2. To discover and implement innovative ways of teaching to benefit educators and students in preparing them for the current/future demands of Nordic Tourism
3. To promote & advance student/staff mobility amongst partners for learning, innovation and R&D activities within NT.